Furano Biei Cycling Road
This cycling road extends across 6 towns and cities: Biei, Kami-furano, Naka-furano, Furano, Minami-furano, and Shimukappu. This large course consists of 3 routes: Route A 88 km long, takes you from Furano to Biei, Route B 150 km long, takes you from the Furano to Minami-furano and Shimukappu area, Route C 18 km, takes you along Lake Kanayama. The course takes cyclists through diverse and wonderful landscapes such as beautiful countryside, hilly areas, and much more.
Directions are painted on the road itself for added assurance for beginners who want to take a long ride, and for visitors who are new to the area. Cyclists can check the number indicated every 1 kilometer and refer to the map to identify current location.
You can also confirm course details and current location on Google Maps and STRAVA.
Furano Biei Cycling Road Route A
Furano, Nakafurano, Kamifurano, Biei
GoogleMap
STRAVA
Kanayama-Lakeside (Route B-C)
Furano, Minamifurano-Kanayama-Lakeside
GoogleMap
STRAVA
Shimukappu - Tomamu (Route B-C)
Shimukappu, Minamifurano-Kanayama-Lakeside, Tomamu
GoogleMap
STRAVA
MAP Download
Plan a cycling trip!
STEP1

Deciding the Route

Remember to set a course according to the age, physical capacity and experience of each member. Don't forget to figure in duration and elevation!
STEP2

Preparing Your Bike

If you are riding your own bike, be sure it is well maintained. If you are renting, go to the rental shop. Some shops offer shuttle service and bicycle deliveries, which will help you map out your course.
STEP3

What to Wear and Take

Be sure to wear clothing fit for cycling and according to the season.It is wise to have outer wear that can easily be shed or put on in order to adjust to the weather and to regulate body temperature. Hats and helmets are a must.
STEP4

Check the Weather

Be sure to check the weather report for the day. It's also a good idea to check the course, contact information and emergency contact information of party members.
Recommended Cycling Wear
The best wear for cycling is clothing made especially for cycling, which fits the body and has a high elasticity, but your own clothing will be just fine!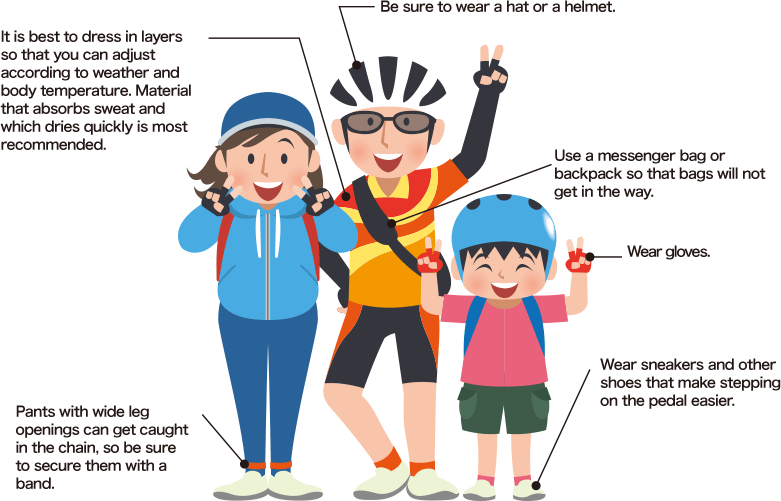 Manners & Rules

Always ride on the left side of the road.
As a basic rule, riding on the sidewalk is against the rules. Be sure to get off your bike hen you must get on the sidewalk.
Riding double, wearing earplugs, headphones, carrying an umbrella and drinking and riding are prohibited by law.
Zig-zagging, and riding in a horizontal line with friends can obstruct traffic, so please refrain from doing so.
Speeding not only endangers yourself, but can cause accidents with pedestrians, and is very dangerous. Be sure to maintain a modest speed.
Turn your bike light on at night.
Use hand signals to notify drivers when you are turning left, right, slowing, or stopping.
Bicycle Rental Shop
地区
店舗
TEL
サービス内容
ガイド
ツアーの
有無
美瑛
Biei
寺島商会
Terashima Shoukai
0166-92-2191
●シティサイクル citycycle
●電動付自転車 electric bicycle
●ロードバイク road bike
●クロスバイク他 cross bike and others
×
宇野商店
UnoShouten
0166-92-1851
●シティサイクル citycycle
●電動付自転車 electric bicycle
×
美瑛物産公社
Biei Bussankousha
0166-92-5555
(ホテルラヴニール)
●シティサイクル citycycle
●電動付自転車 electric bicycle
×
Biei Hills
080-3268-1141
●電動付自転車 electric bicycle
×
Guided Cycling Tour美瑛
Guided Cycling Tour BIEi
090-5956-4567
●電動付自転車 electric bicycle
○
ガイドの山小屋
Guide-no-Yamagoya
0166-95-2277
●電動付自転車 electric bicycle
×
道の駅びえい「白金ビルケ」
Biei Roadside Rest Area「Shirogane BIRKE」
0166-94-3355
●電動付自転車 electric bicycle
●ロードバイク road bike
●クロスバイク cross bike
●ファットバイク fat bike
●子供用自転車 kid's bike
×
上富良野


Kamifurano

かみふらの十勝岳観光協会
Kamifurano Tlkachi-dake Tourism Association
0167-45-3150
●電動付自転車 electric bicycle
×
後藤純男美術館
Goto Sumio Museum of Art
0167-45-6181
●電動付自転車 electric bicycle
×
Cafe YAMAICHI
0167-45-3157
●クロスバイク cross bike
○
中富良野


Nakafurano

立野サイクル
TatenoCycle
0167-44-2777
●シティサイクル citycycle
●電動付自転車 electric bicycle
●マウンテンバイク mountain bike
●子供用自転車 kid's bike
×
ノーザンスターロッジ ※1
Northern Star Lodge
0167-44-2081
●電動付自転車 electric bicycle
○
富良野


furano

遊び屋
Asobiya
0167-22-0534
●マウンテンバイク mountain bike
●シティサイクル citycycle
●電動付自転車 electric bicycle
○
スポートピア
Sportpia
0167-22-1935
●シティサイクル citycycle
●マウンテンバイク mountain bike
○
杉本レンタサイクル
Sugimoto Rental Cycle
0167-22-2769
●シティサイクル citycycle
●シティサイクル(ハンドルがまっすぐのもの)
  citycycle (straight handle)
○
ラベンダーショップもりや
Lavender shop Moriya
0167-22-2273
●シティサイクル citycycle
●電動付自転車 electric bicycle
×
長江商店
NagaeShouten
0167-22-2859
●シティサイクル citycycle
●電動付自転車 electric bicycle
×
藤田サイクル
FujitaCycle
0167-22-2906
●シティサイクル citycycle
●シティサイクル(ハンドルがまっすぐのもの)
  citycycle (straight handle)
×
レンタルサイクルウェイブス(K-Sports店内)
Rental cycle Waves (K-Sports)
0167-56-9241
●シティサイクル citycycle
●電動付自転車 electric bicycle
●ファットバイク fat bike
●三輪アシスト自転車 
  Three-wheel assisted bicycle
×
FURANO NATURE CLUB
0167-22-1311
●マウンテンバイク mountain bike
●クロスバイク cross bike
●電動付自転車 electric bicycle
×
拾って来た家
Hirottekita-ie
0167-23-3388
●シティサイクル citycycle
×
南富良野


Minamifurano

サイクルステーション南富良野
Cycle Station Minamifurano
0167-39-7000
(南富良野まちづくり観光協会)
●ロードバイク road bike
●電動付自転車 electric bicycle
○
南富良野まちづくり観光協会 ※2
Minamifurano Tourism Association
0167-39-7000
●ロードバイク road bike
●電動付自転車 electric bicycle
○
占冠


Shimukappu

道の駅自然体感しむかっぷ
Shimukappu Roadside Rest Area
0167-39-8010
●電動アシスト付きシティサイクル
  electric bicycle
●ロードバイク road bike
●マウンテンバイク mountain bike
●ファットバイク fat bike
○
※3
※1…前日までにお電話でこ予約ください。ガイドツアーは宿泊客のみとなっています。
Please make a reservation by phone the day before. Guided tours are for guests only.
※2…ツアー参加時のみのレンタル Rentals available only when you sign up for tours
※3…年数回ガイドツアーを開催 Guided tours are held several times a year